MSP SALES AND SALES PROMOTION
In the trade and tourism branch, mobile support MSP is mostly used in field sales, HoReCa, sales promotion, sales, receiving orders and deliveries. Sales and sales promotion MSP environment provides complete process support to all fieldwork processes including market positioning.
Delivery is made on the basis of a preceding order. The Mobile Service Platform ensures effective delivery and delivery tracking. It supports a combination of delivery with all field sales solutions, including the change of the ordered quantity (fracture, delivery of additional quantities).
MSP enables and ensures all functionalities of the portable tax register. Finish all field sales processes directly on the field – including with receipt issuing.
Field sale includes a personal introduction, an overview of products and sales. When using field sales, MSP supports:
MSP enables the support for various payment methods and simultaneous control of the customer's credit rating.
Sales promotion is an important aspect of the market communication mix, which is affected by severe competition and connection of large distribution channels.
The MSP environment enables numerous functions intended for the sales promotion support: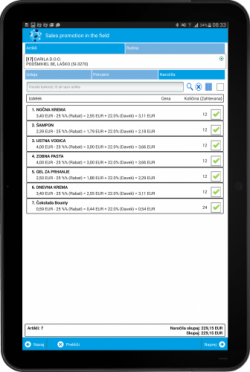 Orders:
MSP ensures the receiving of orders by simultaneously checking stock status and alerting customers to the possibility of delayed delivery (due to inventory deficiency and reservation of the order in the back-end environment). The received order is automatically transferred to the back-end environment, where fitting delivery procedures are triggered. The customer authorizes the completed order and receives the receipt on the selected address.
Recommendations:
Preparation of recommendations is usually intended for the environment, where the individual sales locations of the trader do not have the possibility of direct ordering but use the central ordering of goods. The recommendation does not trigger delivery procedures on the MSP user's side, but records it in the recommendation history and is automatically sent via the appropriate communication channel to the selected point of sale. The user of MSP is also able to print the recommendations.
The support of sales promotion functions is reinforced with the functionality of CRM tools built into the SME environment.
MSP offers a wide range of powerful functionalities in the market positioning spectrum: