How to Minimize Physical Contact in Supply Chain
Coronavirus is spreading and the country is taking measures to address it.
There are ways of not completely stopping the supply chain while taking care of safety of our employees and families. We can create a balance of being responsible and still operating. How? By digitalizing your business processes!
It sounds simple; but what about implementation and support of such a system? Well, that's our job!

By digitalizing and implementing MSP you introduce paperless way of doing business. While doing so you also minimize physical contact between the key employees (e. g. if you introduce ePOD, a physical contact between the back office, the driver and the warehouse is significantly reduced). The distribution plan is sent to the Android device of a driver. There is no need to gather in one place to receive the daily tasks anymore. When the tasks are finished, the back office and/or the client are automatically notified via email. ePOD and other documentation can automatically be sent when the driver is on specific location.
There is no need for physical contact between the driver and warehouse workers as well. The driver waits in the vehicle while the cargo is (un)loaded because all the documentation is electronic and at hand to all the involved in real time. This way we act responsibly and not exposing anybody.
i-Rose has got long-standing experience in digitalization of various business processes. Our solutions work on any Android-based device. For implementing our solutions, a regular Android smart phone suffices.
As we act responsibly towards our team members and clients, we can remotely implement the solution into your processes, without any physical contact.
At this point, there might be some questions regarding training of the users. No worries, we have got it covered as well! Since we strive to develop user-friendly solutions, there is no need to carry out any extensive trainings. Anyone who can use a smartphone can use our solutions as well.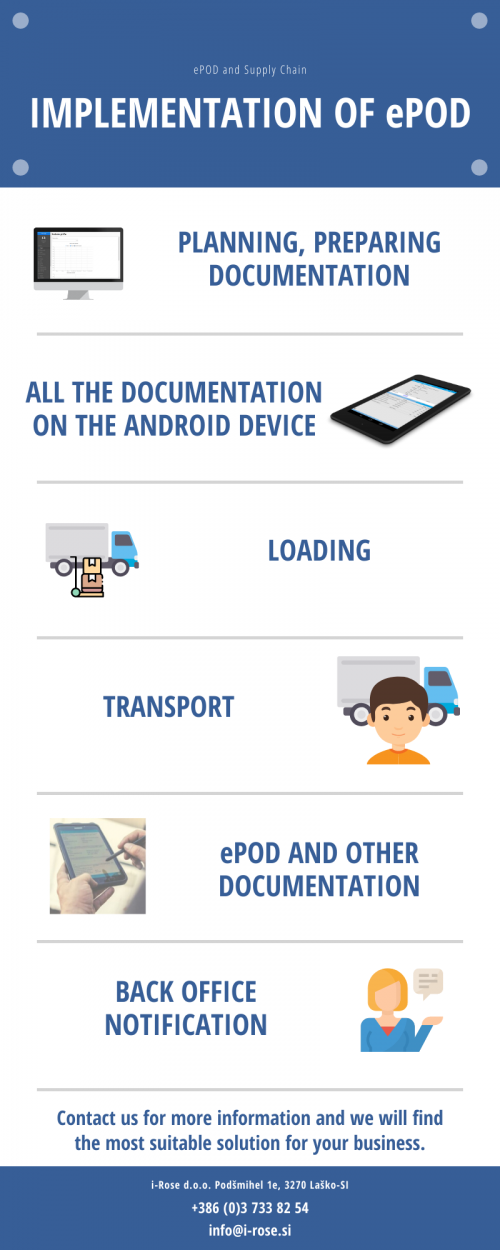 Contact us for more information and we will find the most suitable solution for you and your business.